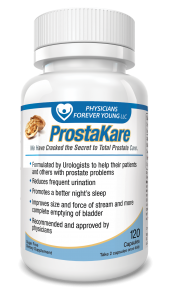 ProstaKare Buy 5 Months Get 3 Months FREE
If you have any worries or concerns about the health of your prostate, then the products that are available from ProstaKare might be ideal for your needs. At ProstaKare, we make a prostate supplement that's formulated to give your prostate the proper care it deserves. Many doctors suggest this supplement to patients who are dealing with prostate difficulties.
Improve Your Life
Our ProstaKare pills are designed to enhance the strength and levels of urine streams. This, in turn, is beneficial for fully clearing out the bladder. The supplement also minimizes frequent urination and burning, which are problems for many people who suffer from prostate troubles. Lastly, the supplement helps people who have prostate problems enjoy full nights of sleep, minimizing interruptions. When you use our pills, you can do so in total confidence. These pills were made by urologists — doctors with special expertise in the urinary tract.
Products for You Lifestyle
Our products come in packs of varying sizes. You can purchase packs that last for one month, two months, three months and six months. If you purchase packs for three or six months, you receive free additional packs. The three month supplies are equipped with single extra bottles, while the six month supplies come with two extra bottles.
All-Natural Ingredients
ProstaKare's ingredients include quercetin, lycopene, beta-sitosterol and saw palmetto. All of these components perform their own specific functions. Quercetin boasts excellent anti-inflammatory abilities. It's also an excellent antioxidant. Lycopene is thought to be helpful for minimizing risk of heart disease and various types of cancer. Beta-sitosterol is frequently employed for the management of heart disease and high cholesterol. Last but not least, saw palmetto is a plant that's frequently used to handle various prostate troubles. Saw palmetto is also used to manage migraines, bronchitis and colds. All of these ingredients work together successfully to make ProstaKare — pills that reduce discomfort and frustration for individuals with prostate troubles. If you have any questions regarding purchasing and using our prostate care pills, you can speak to us by contacting us through our website's form. You can also contact us by calling the number for our customer service department.